CONTZEN,H., Geschichte der volkswirth. Literatur im MA. Bln. 1872. AVKB-Edition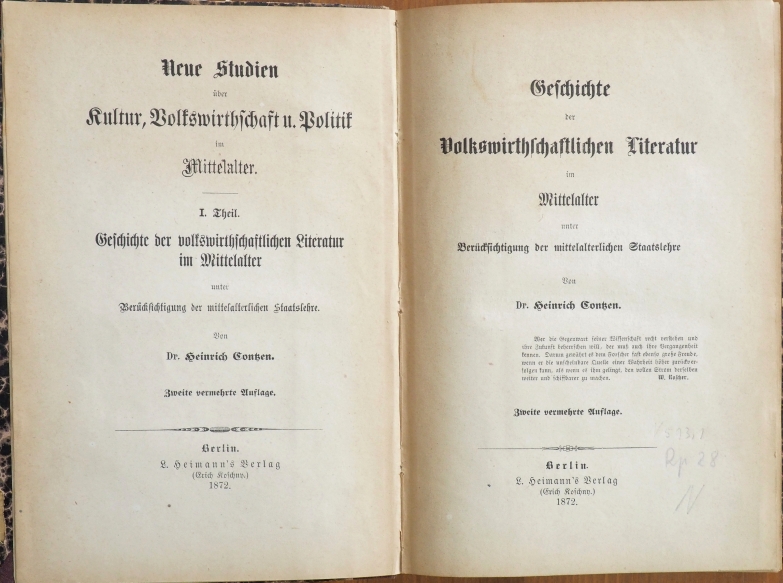 Geschichte der volkswirthschaftlichen Literatur im Mittelalter unter Berücksichtigung der mittelalterlichen Staatslehre. 2., verm. Aufl. Berlin, J. Heimann's Verlag (Erich Koschny), 1872. (Nachdruck: Offenbach am Main, AVKB-Edition 2020).
8vo. 4 Bll., 246 Seiten, 1 Bl. Halbleinen. (Neue Studien über Kultur, Volkswirthschaft u. Politiik im Mittelalter, 1).
With printed dedication "to the founder and master of the historical school Mr. Dr. Wilhelm Roscher in greatest veneration". In the preface to the first edition of 1869, the author remarks quite immodestly that "what I have given (may well) be the most complete work ever published in this field". This statement may well be valid for the 1869 edition and also for the present second edition. At least August Oncken refers in his "Geschichte der Nationalökonomie" (the history of national economics) (the time before Adam Smith) to Contzen's special work in connection with the scholastics' monetary theory. However, in 1874 and 1883, Endemann's major work on "Romanesque canonist economic and legal doctrine up to the end of the 17th century" appeared in two volumes.
Order Number: 1458CB
Rare Book: EUR 119,--